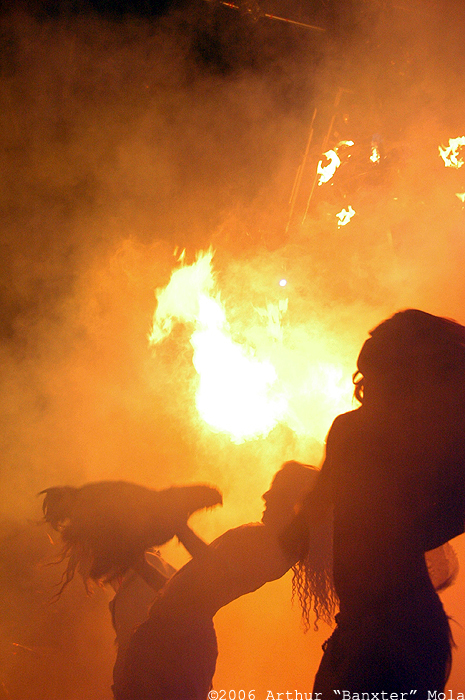 I don't know … but Motley Crue did one Monday night. 😉
The concert was smokey as fuck … I've never seen a smoke machine put in to better use.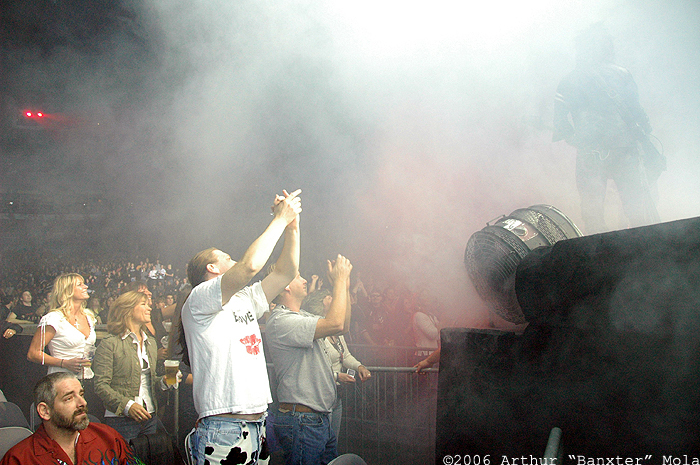 The motherfucker in the cowboy pants … asked my friend Richard to make a photo of him before the show started when there were no lights on.
"It's too dark man. Sorry."
I wish I got his email … wudda sent him this. 😉
Despite that nasty ass smoke machine, which made it almost impossible to make photos, I got a couple good photos.
His mic stand his fucking wicked …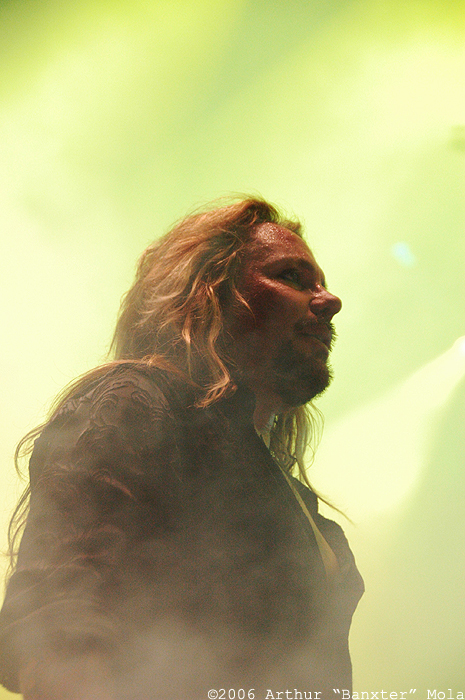 Anyways … back to the animal sacrifice … I dunno if it was a real rooster … I think it was …
It was flapping its wings around.
I dunno how they killed it … it was very fucking foggy, remember?
But after the first song finished … Richard turned to me and showed me his arm which had a small line of blood on it.
Turns out it was the roosters. 😉
I met Richard at the Roger Waters show a couple weeks ago … and then we shot Motley Crue and Aerosmith together Monday night. We've become quite good friends since then. A very cool guy. He's the one that takes his F5 and a roll of black and whites to concerts.
I thought that was pretty cool.
He also had an exhibition yesturday … very cool. A Tragically Hip tribute type thing …
He's shot over 100 of their concerts … as well as promos and CD inlays.
P.S. — Check out Snoop Dogg's Myspace …Â  and listen to "Vato."
😉
Fucking wicked song.
He was very cool to Richard and I … gave us a lot of eye contact and attention …
But the smoke killed it …
… for the most part at least.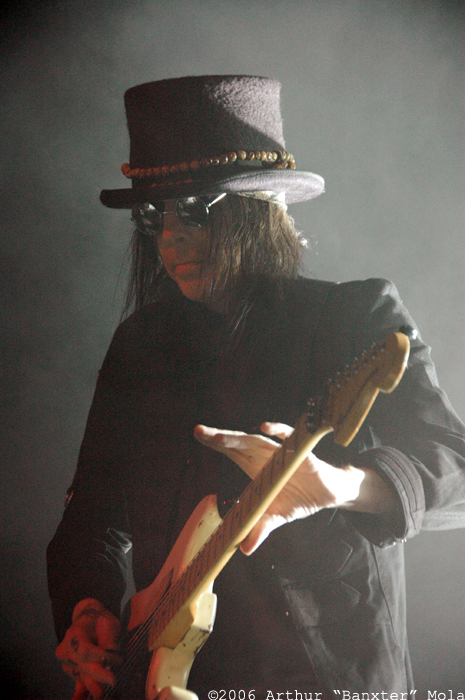 Anyone a Tommy Lee fan?
Oh … and this is for my friend Michaella:
She knows what it is. 😉
After the first three songs for Motley Crue … we went back to the press space …
Chilled.
More photographers started coming for Aerosmith.
Including one named Dar. It was her first arena concert shoot. She was really excited.
Haven't seen her photos yet, but from what she showed me on the back of her camera, they looked cool!
Oh yeah … now whenever I go to shoot concerts … I usually cut the line … cause why the fuck would I wait in line, right?
Monday night I went up to the security guard,
"I'm with press."
"You have to go down to Gate 2A, but go wait in line first."
Go wait in line first?
I should have made a photo of the motherfucker and told him I was going to give it to his boss so his sorry ass would get fired.
Of course I got through after I approached him a second time.
Whatever.
Aerosmith was so full of energy and spirit.
Such amazing performers and musicians.
Even though my lens was fucking up … I noticed that after I got home … it had some focusing problems. Not the first time either … the problem has come up a couple times, but I didn't do anything about it. I'll be taking it to Henry's this weekend to get it checked out.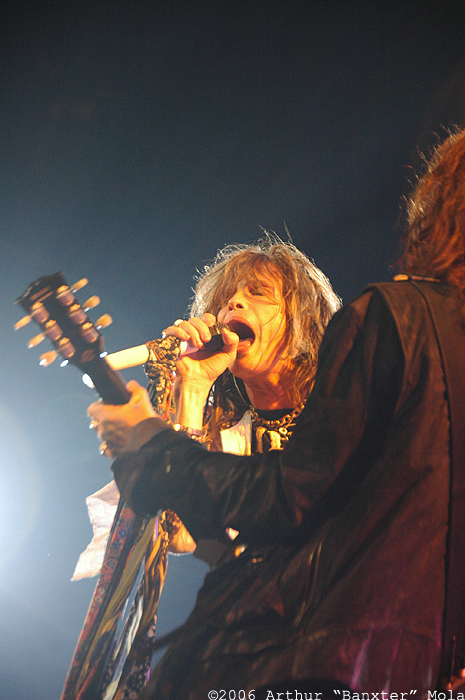 I'm fucking tired … kinda sleepy … so I'll let the photos speak for themselves.
They were amazing with a capital A. 😉
And go listen to Mindless Self Indulgence's Big Poppa cover.
I also did a shoot for an Italian model … she needed headshots for an agent in Italy … and they're apparently being sent off to Prada. Pretty cool. I wonder if she'll "make it." She's in Toronto for another ten months … and then going back to Italy …
But more Aerosmith photos …
A Toronto Sun guy was there as well … and there was a point when Mr. Tyler took a bottle of water and spat it out on to the front row audience … and I'm pretty sure Mr. Toronto Sun guy got wet a little bit too.
I dunno how impressed he was with that.
But hey, he can probably sell his clothes on eBay now that they have Steven's saliva on em. 😉