Before I even start … I just wanna say that Shakira is a fucking rock star.
I don't care if she doesn't play rock music …
She's more of a rock star than any Good Charlotte motherfucker. 😉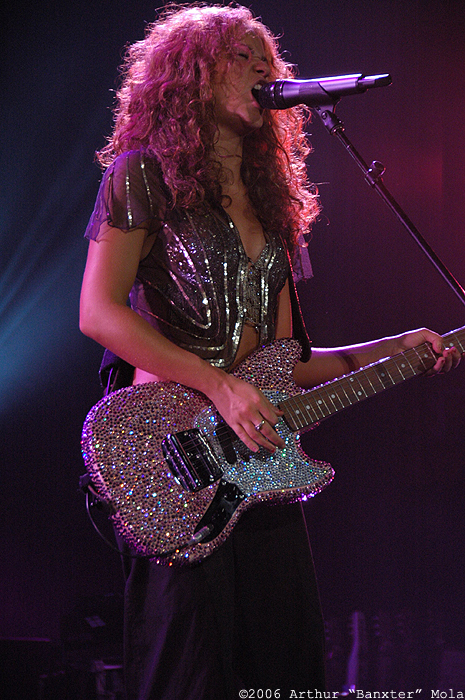 P.S. — I've got "Hips Don't Lie," "La Tortura," and "Don't Bother" by Miss Shakira on loop. 😉
And I'm totally in love with "If I was President," and "Take me as I am" by Mr. Jean.
Those are pretty much the three songs I've been listening to for the past four hours.
So firstly … I just want to thank Kathy … from Live Nation for ALL of her help … I seriously cannot thank her enough for all she's done for me.
Alright … here comes the the diatribe. 😉
I got an email in my inbox saying that I was approved to shoot Wyclef and Shakira … got the call times, everything is looking really good. I was almost late for the Wyclef call time … the fucking subway had another friggin delay (I think we're on like 2,000,003 right now) … and I really thought I was gunna miss it. Got there right at 7:15 … maybe 7:14 … maybe 7:16 …
Point is … I was on time.
I don't think I've ever been so grateful for being on time.
Ever.
So I cut the fucking line (I'm surprised nobody has ever yelled at me for doing that) … get past the security … they don't even give me a hard time anymore. I had the email and a piece of ID ready to show them that I'm not just some dumb kid with a half blonde/half black mohawk trying to "get in." But I just said "I'm with press," and they must have recognized my weird-ass hair by now since they just smiled and said "Right on downstairs."
It's getting really easy now. 😉
I get downstairs to the press table … meet Kathy, sign the artist photo release form … and I was awaiting my new friend Anita from Chart … but she didn't end up shooting Wyclef. Quite a shame … he was fucking amazing.
Words cannot explain.
But she does private photo shoots with Chris Martin, so it's all good. 😉
She does very very wicked studio photoshoots and portrait work … go check her out.
So anyways … there's 3 other photographers shooting Wyclef, one from Globe & Mail … another from a Spanish magazine (Shakira, go figure), and my newest friend, Andrew from an online magazine called The Gate. Very cool little webzine, check them out.
Turned out that he also shot Depeche Mode with me … but we didn't talk there.
Twas cool to find out though. 😉
And the guy from the Spanish magazine had the same setup as me … a Nikon D70s with the Nikkor 18-200mm.
So anyways … we get escorted by another Live Nation sweetheart, Michaella (who by the way is one of the other coolest people I met at the Sean Paul/Mariah Carey show) to the photo pit to shoot Wyclef.
We got the first three songs to shoot.
No flash.
Standard shit. 😉
This guy was spinning for about 10 minutes before Wyclef and the rest of the band came out …
He was pretty good … he was spinning behind his back, and with his shirt over his face and stuff …
It was really cool.
I really like these types of photos … interaction … with the audience and the performer.
I dunno … I, personally, like em.
P.S. — I hate having to scale my photos down here … so right mouse click –> view image to see the full thing. Fucking 700 pixel width doesn't fit in this blog.
If anyone knows how to make the whole blog wider, holla at me. 😉
Wy first started out by freestyling in five different languages.
Looks like he was on #2 … which was Spanish.
There was French, English, Spanish, Chi-fucking-nese, and the third one I can't remember.
Very cool stuff.
We had a very cool spot to shoot at … there was a ramp on the left side of the stage and we were shooting from there.
I thought it was a stellar place.
I haven't been able to walk around the photo pit since Korn …
But it's all good … the band or performer usually does enough running around the stage. 😉
Some more performer-audience interaction. 😉
I think during the second song … he told everyone to stand up … told everyone to dance …
But there was this elderly woman … who was sitting.
So Wyclef stopped the song …
Ran the fuck down the ramp …
Went over to her …
Asked her why she wasn't dancing.
And then took her hand … and danced with her.
Where-the-fuck-else do you see something like that?
Honestly.
Interaction is so fucking important for musicians.
Shooting concerts is very interesting for me, as a musician … since I see what works … and what doesn't.
Very fucking interesting.
After that, he started walking around the entire venue … without any security guards I may add … and talking and dancing with people in the audience.
Let me ask you again …
Where the fuck else?
Speaking of security guards …
Wyclef started his third song with "You know how many security guards 50 Cent has?"
"50 Cent has 50 security guards."
"Do you know how many security guards Jay-Z has?"
"Jay-Z has 300 security guards."
"Do you know how many security guards Wyclef has?"
"Wyclef has 1 motherfucking security guard."
And then he came on stage.
Totally fucking serious … with the I'll-chop-your-balls-off-if-you-look-at-me-the-wrong-way look on his face.
And then the music started …
And it turns out that the guy can dance.
Him and Wyclef danced the entire song away …
Again … incorporating your security guard into your concert in a very interesting, funny and exciting way …
Where the fuck else?
Really, REALLY loved Wyclef …
So after the first three Wyclef songs aka the best three songs fucking ever …
We all went back to the press table / lounge area and hung out …
Kathy's neece and friend were here visiting from Ottawa … talked to them for a while … they were pretty cool!
About 3 or so more photographers started coming in at the call time for Shakira … along with my friend Anita from Chart and some other people, one from Toronto Star, who I was shooting Mariah with the week before.
Michaella took us in again …
We got the second and third song to shoot miss Shakira, and from the same spot as Wyclef.
As soon as the first song was over, we started walking towards the pit …
It feels good walking down the aisle … everyone looking at you as you walk by them, trying to figure out why the fuck you're going up to the stage … and knowing that you're about to capture time.
It's a great feeling.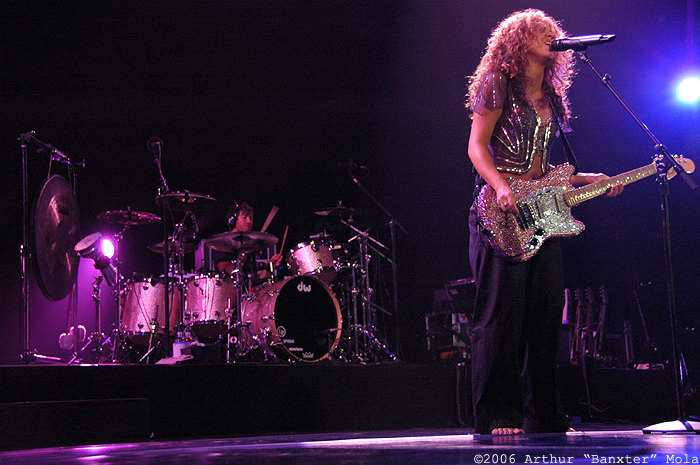 I'm not sure which song she started out with … but I do know that the third song was "Don't Bother," one of my favorites. 😉
This was taken during the first song … when she wasn't playing the guitar.
I really love Shakira … if you don't, then keep it to yourself … I don't really care.
She's an amazing SINGER, DANCER, and overall PERFORMER … so shove it. 😉
I bet she could belly dance circles around any other person.
Sing them too. 😉
Shooting her went by very fast …
Two songs is a lot shorter than you think …
But I managed to take about 200 or more photos of her … I filled a 3GB memory card with Shakira and Wyclef.
So glad I did … I ended up getting over 40 amazing shots of Shakira.
And the rest didn't "make it" because they were too similar to the others … not because they weren't sharp or ill-composed, or under/over exposed.
Well, there were a few of those … 😉
But mostly due to similarities.
The lighting was AMAZING … the colors turned out sooo fucking well.
I didn't even wanna strip the colors …
They were just a part of the show as anything else.
There are always exceptions though. 😉
Common … I need at least one black and white frame from the night.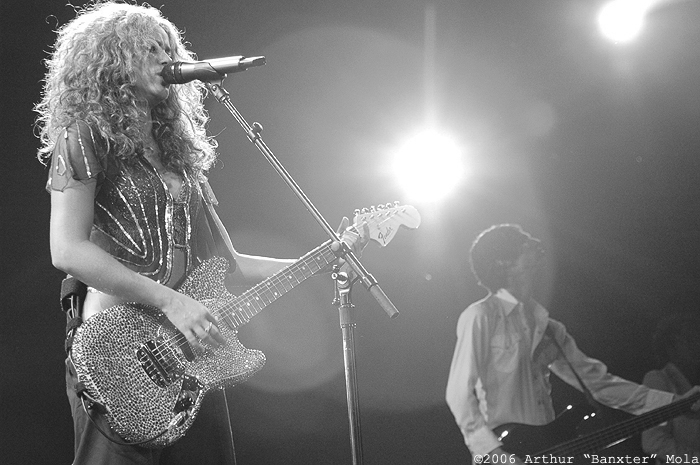 She was very generous with the photographers …
Gave us a lot of good shots …
That our publications or wire services will like …
You know what I'm talking about …
The "eye contact" shot …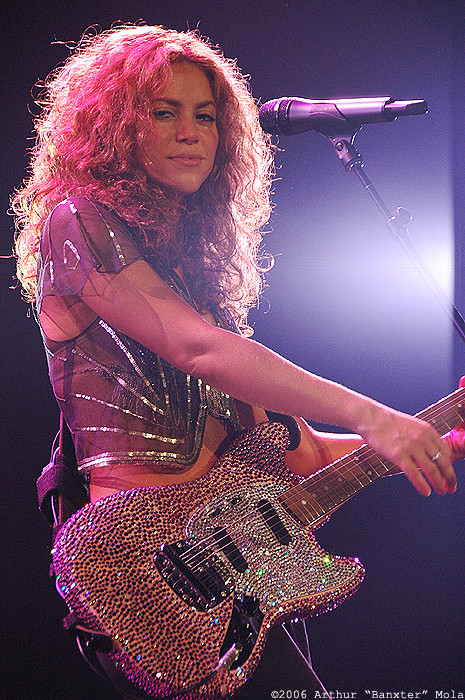 The reviewer from the Toronto Star said she made more eye contact with her own cameras than with the audience.
May be true, but I used it to get one of my favorite photos from the night. 😉
Everyone put their camera's down at that time …
But I was clicking away … 😉
I love shooting for myself …
I got the good eye contact shots …
I got the nice color photos …
But I love shooting for myself when all that is said and done …
And being a little different.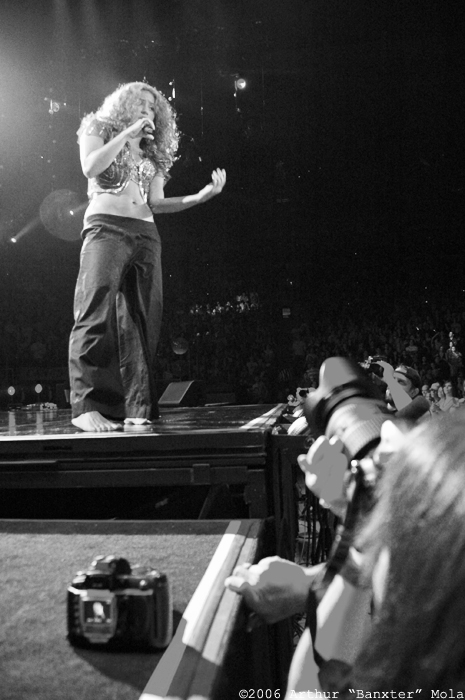 Do I care that my friend Anita is in the photo?
Of course not … I wanted her to be … 😉
I love the camera body with a photo of Shakira on playback resting on the ramp too.
So back to how I started this …
Shakira is a fucking rock star.
I don't care about the yoga pants …
Or the bare feet …
She's a rock star … 😉
A very nice one at that.
And one who can play like fucking crazy.
Last night was amazing …
Words cannot sum it up.
I felt like shouting on the subway on my way home … at 11pm …
I was so happy.
Amazing concert.
Wonderful performers …
Wyclef, Shakira …
And overall … just wow.
Met even more wicked people.
And Kathy asked my permission to print a photo and frame it for her office at Live Nation. 😉
Of course I said yes.
I'm interested to see which of the 40 I sent her she'll want up on the office wall. 😉
Best concert I have ever seen …
And definately the best concert I have ever shot.
I don't think I've ever been happier after a shoot.
Gracias, y hasta luego. 😉