There's a lot of shit that I shoot …
There's a lot of shit that I shoot that I like …
But never ends up making it on a site like deviantART where I post what I consider my best work.
And it's a shame that some of the stuff I shoot that I like never gets seen beyond my camera and my eyes … maybe a few people, but usually just my camera and I.
So … in light of Mr. Weeks' finally finished 160-fucking-page street article (which I might add is fucking boss) I decided to sift through some of my street photography shoots … and share the "diamonds in the dirt." No … I don't mean that these photos are fucking amazing. I think they're good. But I only used the saying "diamonds in the dirt" because I can't think of any other way to say "photographs that haven't been seen by anyone yet" in a better way.
To break the ice, here's one I took on June 22nd in my hometown that smells like Halifax, Toronto: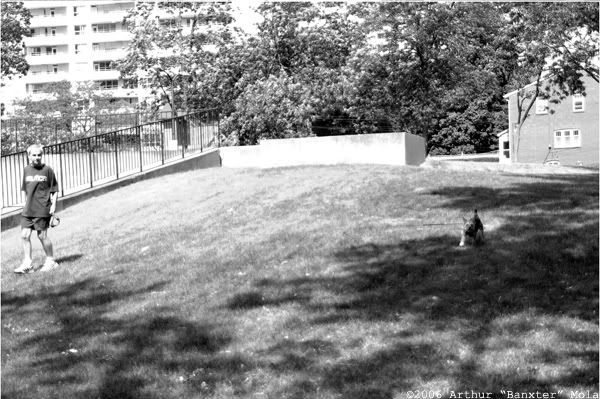 On a sidenote, but relatively similar topic, the article written by my main man Chris Weeks is fucking stellar.
So stellar, that I'm thinking of buying a fucking Leica.
I just started photography in mid-March of this year.
I'm 16 years old.
So I still have time to buy one … no rush. But I've definately been thinking since street photography is something I love to do … and most of the time I like to do it without people noticing me. Chris and I share the same taste in that sence, as do many other people. I'm shooting right now with a Nikon D70s and I used to use a Tamron XR DiII 18-200mm lens until I traded it in for the Nikkor 18-200mm a couple weeks ago and it really is kinda hard to shoot STREET with a big D-SLR like that. It works amazing for my concert photojournalism and commissioned shoots …
No doubt.
I fucking love my D70s and I really love my lens. Couldn't ask for anything better … especially at my age and time shooting. I still have a lot of time to grow and learn.
But for street photography … I think I'd be better off with a little Leica and a prime …
We'll see. 😉
Anyways … on with the photos!
This next one was also taken on June 22nd … same shoot.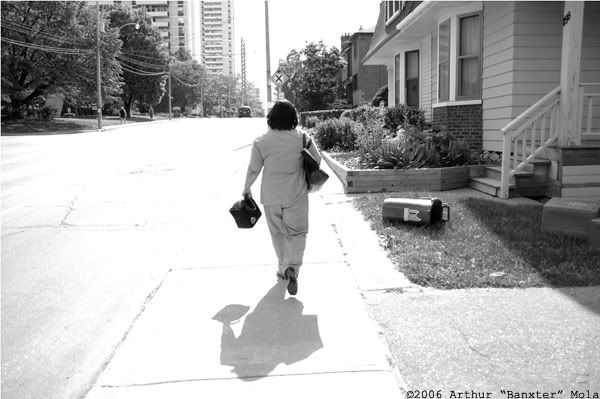 I really like how "movie" this looks … back faced … suit … walking towards the sun in an everyday neighborhood … garbage can knocked over.
I dunno. I like it. You don't have to though.
Speaking of movies and Hollywood — here's the closest shot I have to a movie production set … kinda "Hollywood-like" I guess.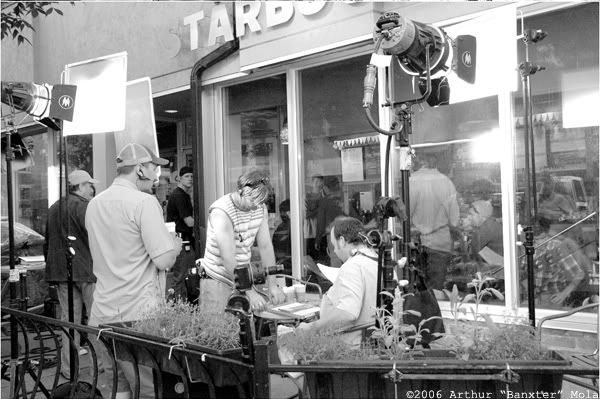 The guy in the middle was yelling … the guy on our left (possibly the movie bitch?) was confused and holding 2 coffees (that's why) and the guy on the right was upset. I thought it captured something. But again, you don't have to agree.
Taken on June 11th by the way.
I don't shoot buildings … architecture … whatever.
But, this one time I did: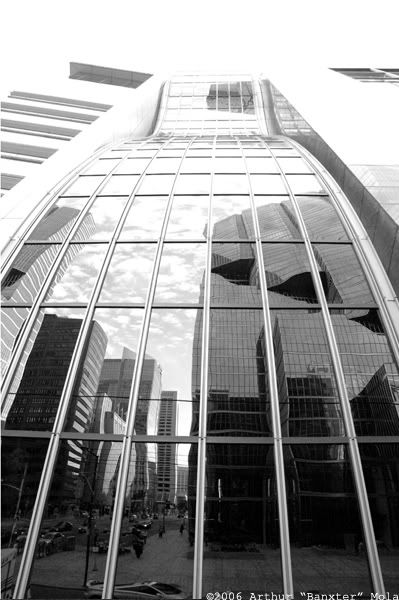 Whether you're fixing a bandage on your foot: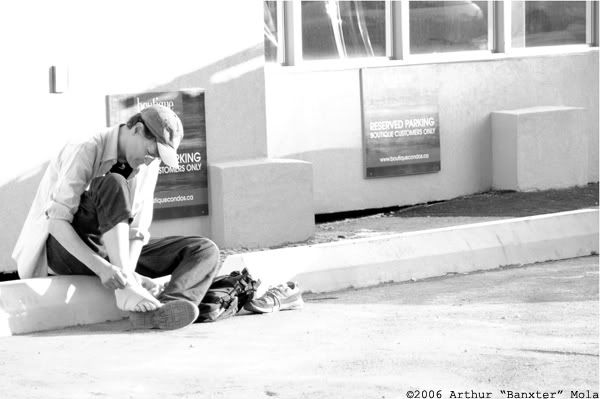 Talking on your phone on a curb on a branch off of Queen Street W.: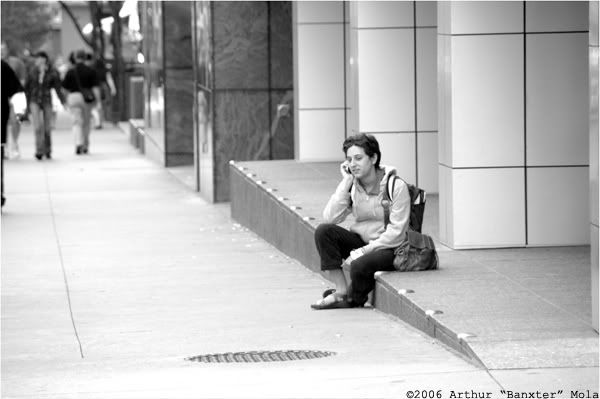 Homeless and proud of it: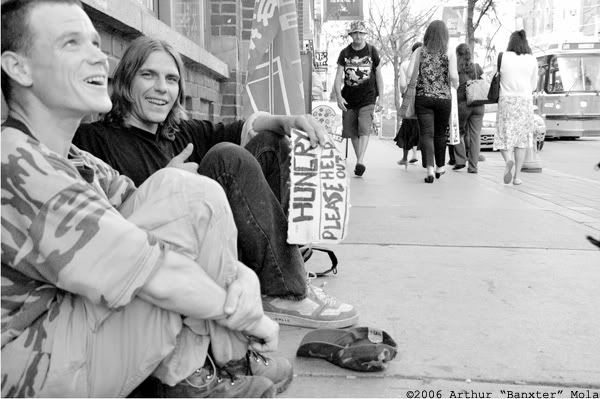 Or trying to get in to a shitty club: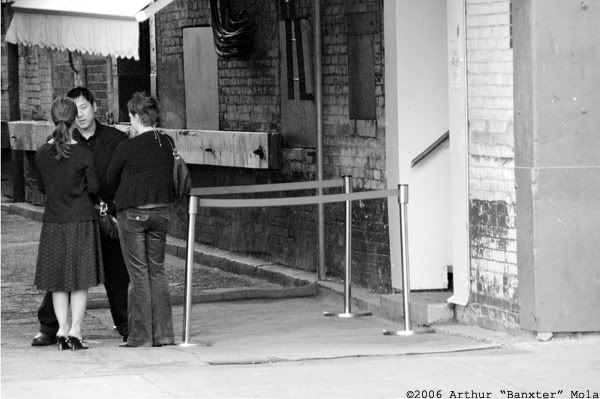 …people are people.
Or they're all targets for my next shot. 😉
I like photos of people in thought.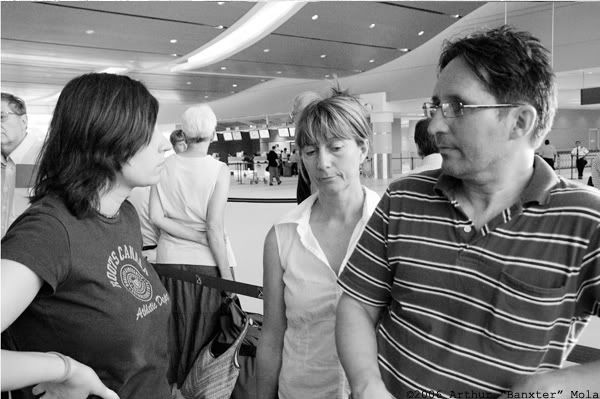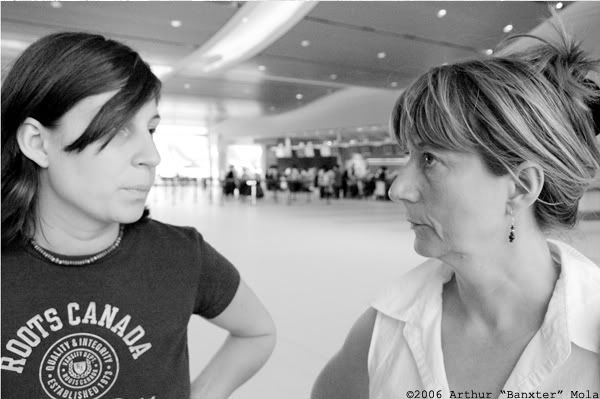 Or two parents arguing while their child is caught in the eye of the storm but still enjoying a ride on a swing.
Or two friends making photos of eachother, not giving a flying fuck about what people around them think.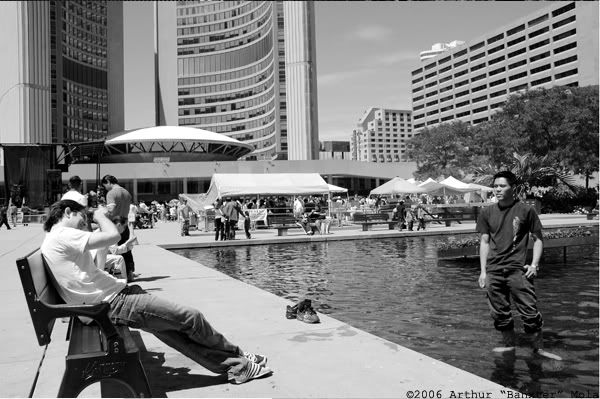 That's the sequel to this photograph.
See … that one got published, but this one didn't. I like both.
But I think the other one is better.
I don't shoot animals really either … But I don't mind doing it.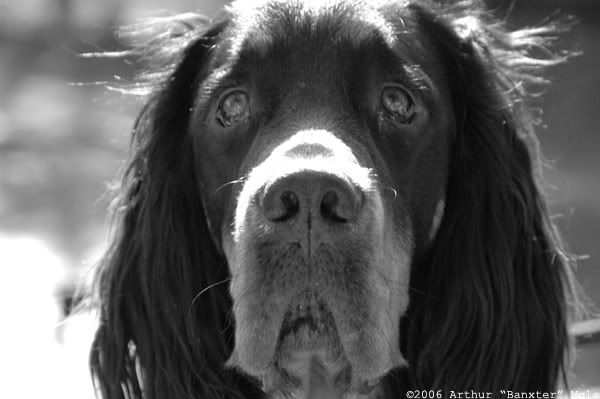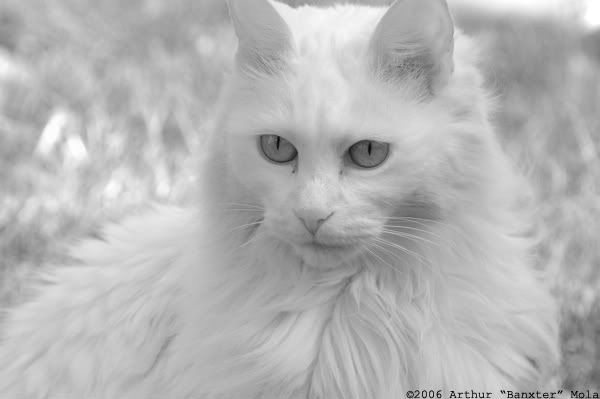 That dog is fucking annoying by the way.
Thank God it's not mine … it belongs to my Aunt.
Little Figaro is my cat though.
Love her.
I wonder how Raphael and Figaro would get along.
… but I don't wanna give it a try cause I still want my Aunt to have her dog 😉
Figaro is fucking vicious.
I love photographing my Grandma: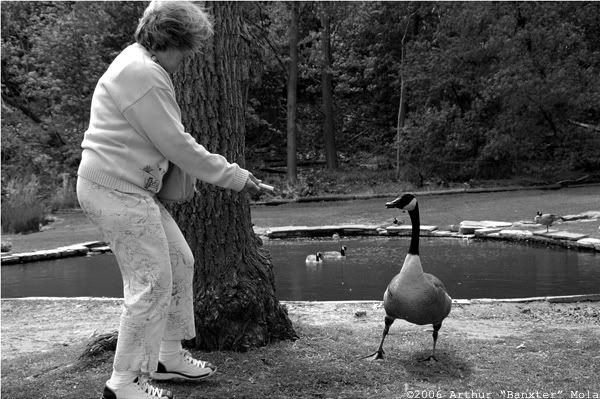 She's so connected with nature.
Dogs don't bark at her.
Cats don't shit on her furniture *ahem*Figaro*ahem*
Etc, etc.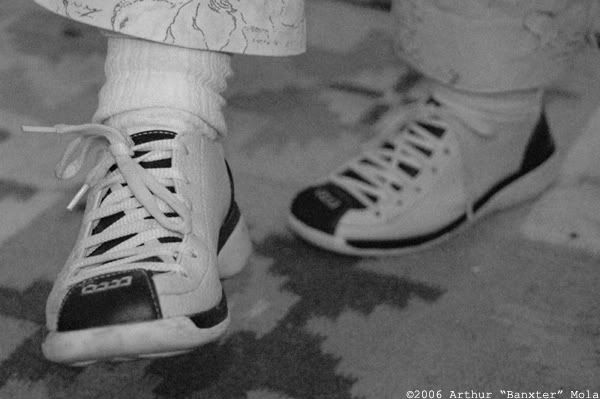 Dunno what these two were talking about.
Dunno if they were friends … or perhaps something more.
Dunno why I like this photo, but I do.
Sometimes you don't have to know why or who, or what, or where, or when.
You just know.
Know what I mean? 😉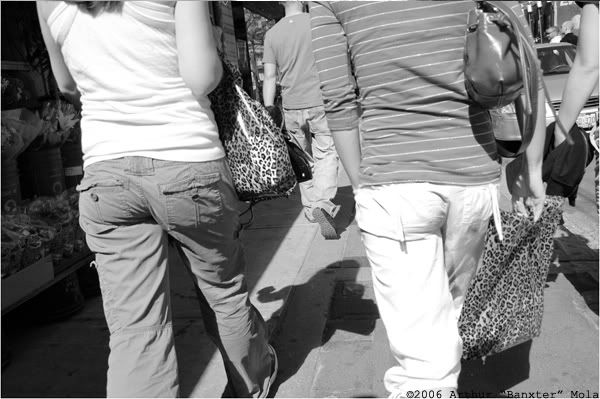 This is a "whatever" photo.
I like their jaguar bags.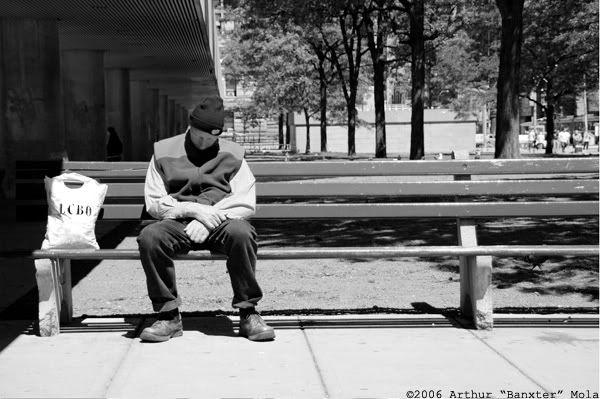 Was he homeless, or did he just have a tiring night?
Who the fuck knows? I don't.
Kinda cliche, but I don't care. I deserve my own cliche photos. 😉
Got a good one of my sister pissed off: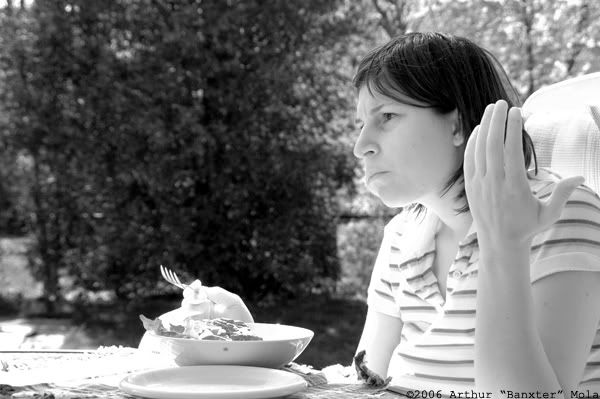 😉
Another rather cliche photo: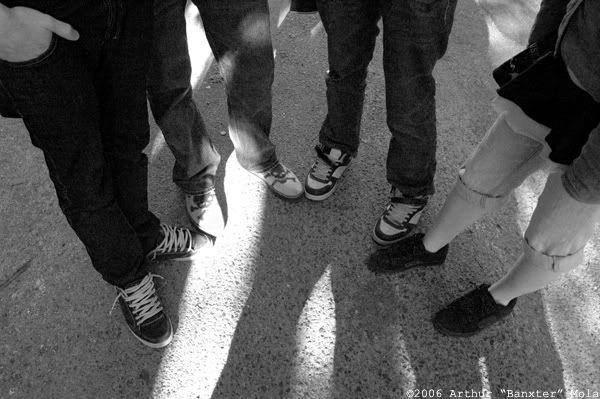 But again … I don't really care, I like it.
I like my shadow.
I like the outfits and the different brands of shoes.
All with the same message.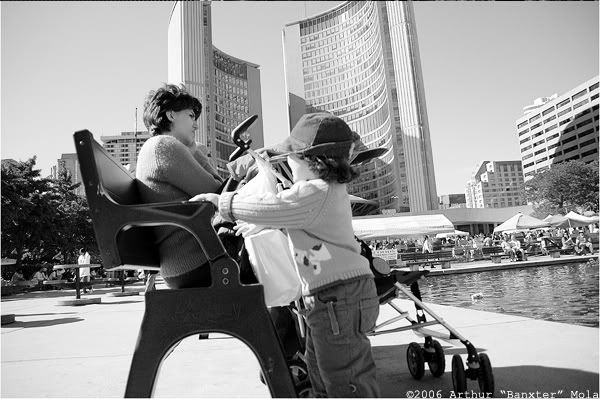 An anxious daughter … trying to get attention from a tired mother.
And lastly …
A simple game of rock, paper, scissors.
Because life is nothing but a simple game. 😉