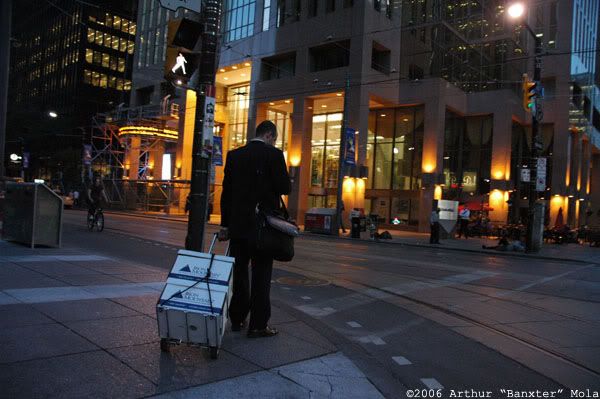 Went shooting tonight … downtown Toronto. Love that place. There's always something good.
Haven't shot street in the night yet … was fun and interesting. Whole different perspective.
Whole different moments between people.
Twas fun.
Kinda harder to get light … but it sets the mood and atmosphere.
And mood is a great thing. 😉
Anyone who lives in Toronto and has been on Queen St. has either seen or heard this next guy yelling "AAACTIVE SURPLUS"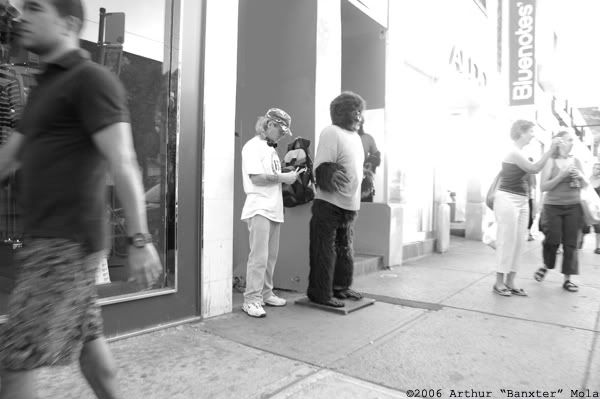 Him and the monkey share the same haircut.
I wonder how long he's been doing what he does.
Everyime I go to Queen W. he's there.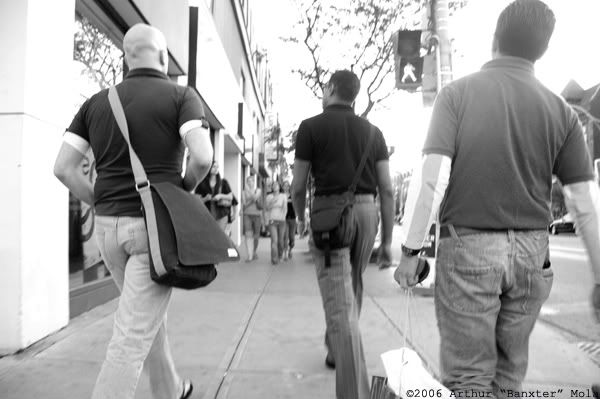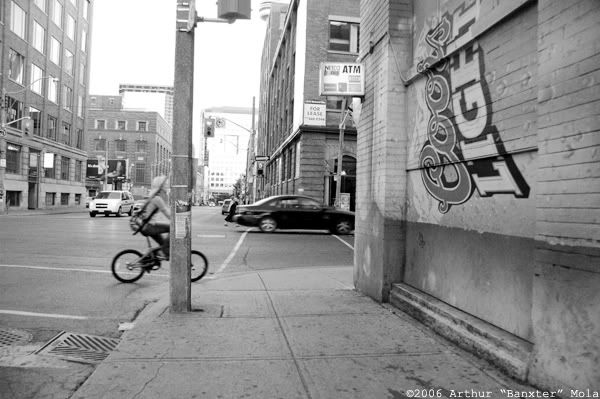 I really like these photos. Dunno why.
I wonder how long this guy's been sleeping on Queen St. W. as well.
I've never seen him there. At least I don't think.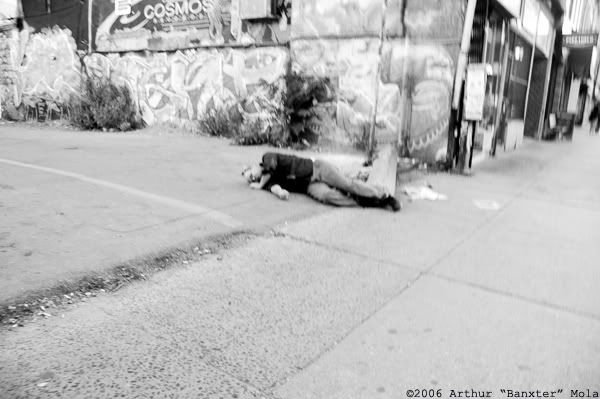 Oh yeah, and all of these were shot from the hip. While I was walking towards them.
Which will explain why not all of them are entirely in focus.
But I really don't care. Sharpness isn't everything, and I'm new to the whole shooting from the hip technique. 😉
Learning to estimate distance.
Learning to "be the ghost."
It's fun. 😉
Learning anything photography is fun.
My camera is never on anything other than Manual.
Never on antyhing other than Manual Focus.
And now, it's not even always up to my eye. 😉
It's fun shit.
I love doing it. And I love coming home and seeing a night out on the street.
I don't even really look back on my LCD.
But I still have a sensor. 😉
That will change soon. I'm getting a film camera.
I'll still use digital … cause there's no way that I'll be shooting Sean Paul and after 24 frames switch film.
Fuck that.
I make about 200-350 during the 6-9 minutes press gets to shoot.
I will however take it on the street with me. Take it to weddings (along with my digital).
Life is about balance.
So is photography.
So is walking on a tight-rope. 😉
But I honestly can't wait to learn that "technique"
Yeah, I'm referring to film as a "technique" cause it is. There's no LCD to "check" on. And there's no room for mistakes. Well, there is, but it'll cost you. 😉 It's about nailing the fucking photo. And knowing what you're doing. But that's how I treat my D70s right now anyways.
I love digital.
And I will love film soon. 😉
And I absolutely love shooting from the hip.
So glad I started photography … cannot say that enough.
Anyways, this next photo is probably my favorite from the night … along with the first one, which fucking Photobucket resized. Bastards. 😉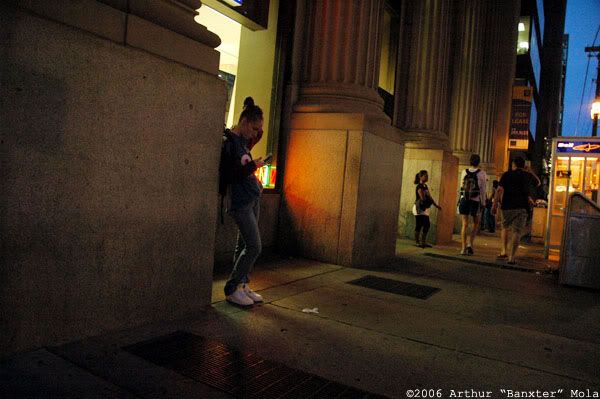 Speaking of street photography by the way … check this out.
Cool fucking contest hosted by a cool fucking photographer.
Go take your camera (digital or film, no one on the judging panel gives a fuck) shoot … submit … and win a wicked new camera and badass lens. 😉
H&K.